Casa Blanca Siesta Key: Beachfront Bliss
Experience beachfront bliss at The Casa Blanca on Siesta Key, FL. Individually owned villas & apartments, stunning views, and resort amenities await.
RENTALS INFORMATION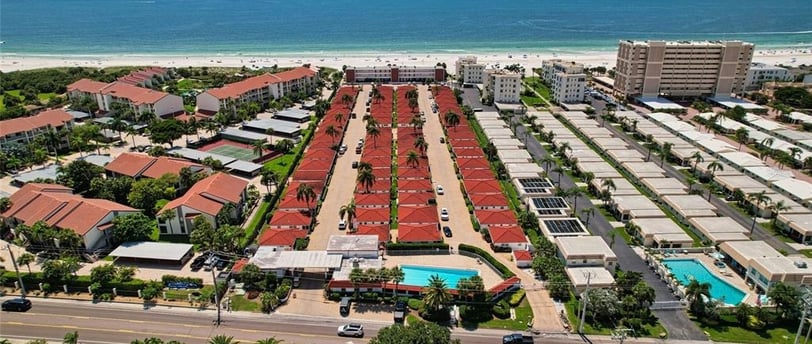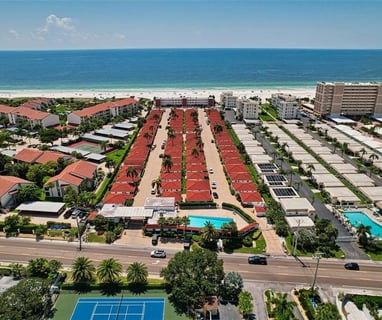 Nestled along the pristine shores of Crescent Beach, Casa Blanca in Siesta Key, FL, offers a truly unforgettable beachfront getaway. Whether you prefer the privacy of a villa or the expansive views from an apartment, Casa Blanca Beach Resort provides individually owned accommodations that cater to your needs. With a minimum stay of 5 or 7 nights, depending on the owner, each unit boasts one or two bedrooms, a living room, a full kitchen, and an eating area. From the moment you arrive, you'll find yourself immersed in comfort and convenience, allowing you to make the most of your tropical retreat.
Discovering the Elegance of Casa Blanca Siesta Key
Fully Furnished and Thoughtfully Equipped: At The Casa Blanca, every detail is taken care of to ensure a seamless and enjoyable stay. Each villa and apartment is individually decorated and fully furnished, including cookware, linens, and beach towels. The units are equipped with individually controlled AC/Heating, cable TVs, and Wi-Fi, allowing you to relax and stay connected throughout your stay. Plus, wireless internet access is available in the Clubhouse area, providing added convenience. For added convenience, several laundry facilities are conveniently located within the resort, making it easy to freshen up after a day of beachside fun.
Beachfront Luxury and Recreational Delights: Step outside your villa or apartment, and you'll find yourself captivated by the beauty of Crescent Beach, internationally recognized for its fine white sand. As a guest of The Casa Blanca, you'll have access to a large private beach area, perfect for sunbathing, swimming, and strolling along the shore. Lounge chairs and shade cabanas offer relaxation and breathtaking views of the Gulf of Mexico. The resort's expansive, heated pool, situated next to the clubhouse, beckons you to cool off and unwind. With ample space for lounging in the sun or reading in the shade, the pool area provides the perfect setting to relax and enjoy the Florida sunshine.
Why Casa Blanca Siesta Key is the Ultimate Vacation Destination in Florida
For those seeking nearby dining and shopping options, Crescent Beach Village is within walking distance, while Siesta Key Village is just a short drive away. If you're in the mood for exploring, Sarasota, just across the Stickney Point Bridge, offers a plethora of activities, shopping, restaurants, and attractions, including Mote Marine, Ringling Museums, Van Wezel Performing Arts Hall, Repertory Theatre, and Selby Gardens.
Escape to Casa Blanca in Siesta Key, FL, where beachfront luxury, comfortable accommodations, and an easy-going atmosphere converge. Whether you choose a villa or an apartment, you'll find yourself surrounded by breathtaking views, a tranquil ambiance, and access to top-notch amenities. With Crescent Beach at your doorstep and a variety of recreational opportunities within reach, your vacation at The Casa Blanca promises to be a haven of relaxation and unforgettable memories.
Discover the Richness of Amenities at Casa Blanca Siesta Key:
1. Refreshing Heated Pool:
Dive into the serene ambiance of the extra large heated pool. Whether you're a seasoned swimmer or just looking to dip your toes, the pool caters to both the adventurous and those seeking tranquillity. Plus, the dedicated shallow end ensures our younger guests have their share of fun safely.
2. The Clubhouse Experience:
Beyond being a mere facility, the Casa Blanca clubhouse offers an immersive experience. Dive into spirited matches at the billiards or ping pong tables, lose yourself in an enthralling book from the lending library, or just unwind and engage in delightful conversations with other guests. It's also a perfect spot for small get-togethers!
3. Stay Connected:
In today's digital age, staying connected is more important than ever. That's why Casa Blanca ensures high-speed Wi-Fi is available throughout the complex, making it easy to share memories, catch up on work, or plan the next day's adventures.
4. Gourmet Adventures in Fully Equipped Kitchens:
Every unit at Casa Blanca boasts a kitchen that's a chef's dream. With state-of-the-art appliances like dishwashers, stoves, and ovens, whipping up a delightful meal or a quick snack becomes a joyous affair.
5. Laundry Convenience:
Packing for a trip often poses challenges. However, with washers and dryers available in many units, coupled with laundry areas on each floor of the tower and an expansive laundry facility near the main entrance, guests can pack light and enjoy the convenience of freshening up their clothes as required.
6. Parking Made Easy:
For those arriving by car, Casa Blanca offers spacious parking, ensuring peace of mind knowing your vehicle is safe and close by.
7. Proximity to Siesta Key Public Beach:
The true charm is merely a stone's throw away. Casa Blanca, with its prime positioning on Crescent Beach and proximity to Siesta Key Public Beach, ensures guests have immediate access to the radiant white sands and pristine waters that continually captivate travelers.
In Closing:
Casa Blanca Siesta Key isn't just a place to stay; it's a destination that promises a blend of luxury, comfort, and unforgettable memories. Whether you're here for a weekend or an extended holiday, Casa Blanca offers an unparalleled experience that will beckon you back time and time again.