Crescent Arms Siesta Key
Experience beachside bliss at Crescent Arms Siesta Key, your perfect destination for relaxation and adventure.
RENTALS INFORMATION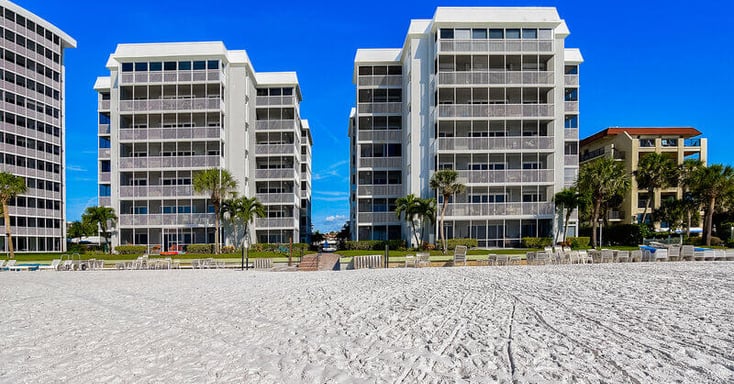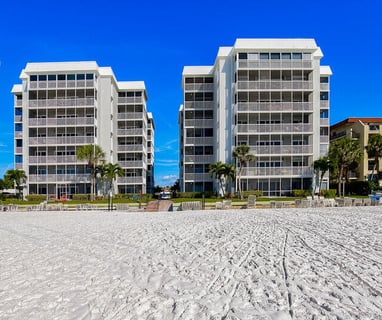 Nestled in the heart of Siesta Key, Florida, Crescent Arms offers the quintessential beachside escape. With its prime location directly on the Gulf of Mexico, this condominium complex is an oasis of comfort and convenience, providing an unparalleled experience for both leisure and adventure seekers.
Cresent Arms Siesta Key: Accommodations and Amenities
Crescent Arms offers fully furnished, gated condominiums and villas, each with 2 bedrooms and 2 bathrooms. The individually owned and decorated units are equipped with wireless internet, cable television, generous closet space, a lanai or glassed-in porch, and a fully furnished kitchen.
Guests can enjoy a plethora of amenities that include:
Private Beach Access with Chairs: Just a few steps from the beach, you can enjoy the sugar-white sand of Crescent Beach, known for its crystalline waters.

Swimming Pool and Hot Tub: Whether you're in the mood to swim laps or simply relax, the pool and hot tub offer a perfect way to unwind.

Fitness Center and Laundry Facility: Stay fit during your vacation with the on-site fitness center, and make use of the convenient laundry facility.

Villas with Attached Garages: For those opting for a villa, enjoy the convenience of an attached garage.

Cabana and Umbrella Service: this service ensures that your beach time is comfortable and shaded.
Cresent Arms: Rental Information
The Crescent Arms has some specific rental guidelines to be aware of:
Minimum Stay: There's a 1-week minimum rental period required, with Saturday check-in. Off-season exceptions may apply.

Occupancy: Rates are based on 4-6 person occupancy.

Restrictions: No pets, motor homes, trailers, motorcycles, utility or commercial trucks, recreational vehicles, or boats are allowed. Only one vehicle per unit is allowed during peak seasons.

Age Requirement: All guests must be 21 years of age or accompanied by a parent or legal guardian.

Cancellation Policy: Full refund for written cancellations 60 days prior to arrival.

Check-in and Check-out Time: 4:00 P.M. for check-in and 10:00 A.M. for check-out.
For last-minute availability or special arrangements for weekend and late arrivals, guests are encouraged to call the office at 941.349-4171.
Nearby Attractions
Situated on the pristine Crescent Beach, near the south bridge of Siesta Key, Crescent Arms boasts a location that offers the best of both tranquility and convenience. It provides easy access to a variety of attractions and amenities within walking distance or a short drive.
Siesta Key Village - A short drive of approximately 2.5 miles from Crescent Arms takes you to the vibrant Siesta Key Village. Known for its laid-back atmosphere, the village is filled with quaint shops, unique eateries, and live music venues. It's a perfect place for a leisurely stroll, a shopping spree, or a fun-filled evening.
Captain Curt's Crab & Oyster Bar - A mere walking distance away from Crescent Arms, Captain Curt's is a must-visit for seafood lovers. Famous for its award-winning clam chowder, this place offers an array of delectable seafood in a relaxed, beachy setting.
Daiquiri Deck - Also within walking distance is the Daiquiri Deck, a popular spot known for its variety of frozen daiquiris. Located in the "South Siesta Key" location, it's the perfect place to cool off after a day at the beach.
Toasted Mango Cafe - A short stroll from Crescent Arms will bring you to the Toasted Mango Cafe, a beloved local eatery offering a menu of classic and creative breakfast and lunch dishes. Known for its welcoming atmosphere and delicious food, it's a great spot for a leisurely brunch or a quick bite.
Turtle Beach - Just 3 miles from Crescent Arms, Turtle Beach offers a quieter alternative to the bustling Siesta Key Beach. Known for its abundance of sea turtles, this park also features picnic areas, a playground, and a boat ramp.
The superb location of Crescent Arms, close to numerous attractions and amenities, makes it an ideal base for exploring Siesta Key. Whether you're a beach lover, foodie, or adventurer, there's something for everyone within a short distance. So, when you're not soaking up the sun on Crescent Beach or relaxing in your comfortable accommodation, venture out to experience the vibrant local scene around Crescent Arms.
Conclusion: Crescent Arms Siesta Key is more than just a place to stay; it's an experience that offers something for everyone. From the tranquil beach to the bustling South Village, from the relaxing pool to the adventurous fishing spots, Crescent Arms is your gateway to a memorable vacation. With various amenities and a convenient location, it ensures that whether you want to shop, swim, or simply relax by the pool, Crescent Arms has what you need. Book your stay today and embark on an unforgettable journey to Siesta Key, Florida.