Crescent Royale: Siesta's Gem
Experience unmatched luxury steps from Siesta Key beach. Crescent Royale: Your gateway to coastal serenity.
RENTALS INFORMATION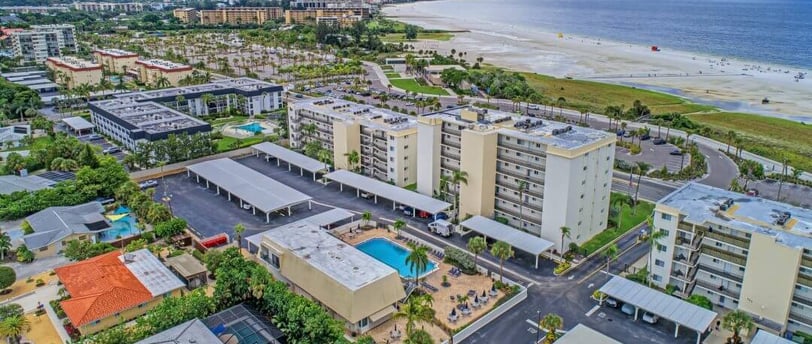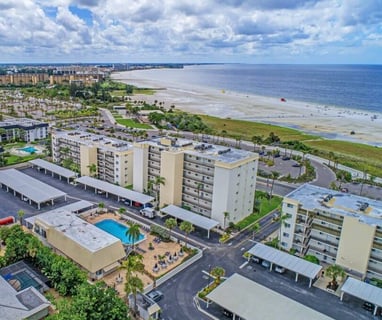 Siesta Key, Florida, is celebrated for its shimmering white sand beaches, turquoise waters, and relaxed island ambiance. Nestled within this paradise is the Crescent Royale Condominiums, a property that not only offers a luxurious stay but is also positioned in a location that can only be described as prime. Let's delve deeper into why the location of Crescent Royale stands out.
Crescent Royale: A Stone's Throw from the Beach
The most compelling draw of Crescent Royale's location is its proximity to Siesta Key Public Beach. Guests can effortlessly transition from their comfortable accommodations to the powdery sands of one of America's most renowned beaches. This means spontaneous sunset viewings, early morning strolls, and daytime sunbathing become a daily routine, rather than a planned excursion.
Panoramic Views
Every unit at Crescent Royale is oriented to face the Siesta Public Beach and the expansive Gulf of Mexico. This strategic positioning ensures that guests can enjoy unobstructed views of the ocean, feeling its vastness right from their lanai. There's nothing quite like sipping your morning coffee or evening wine while the sun paints the sky in hues of orange, pink, and purple.
The Best of Both Worlds
While the allure of the beach is undeniable, Crescent Royale's location offers more than just coastal charm. It's situated in a tranquil neighborhood, ensuring peace and quiet for its residents. Yet, it's close enough to the lively action of Siesta Key. This means guests can enjoy serene afternoons and, within minutes, find themselves amidst the vibrant nightlife, restaurants, and shops that Siesta Key is famed for.
Ease of Accessibility
The strategic location of Crescent Royale also means that guests have easy access to a range of amenities and services. Whether it's a quick grocery run, a desire to explore local eateries, or the need for water sports rentals, everything is within a short distance.
The location of Crescent Royale on Siesta Key is not just about geographical coordinates. It's about the experiences it offers. From unparalleled ocean views to the convenience of modern amenities, from the serenity of a quiet neighborhood to the vibrancy of Siesta Key's lively spots – Crescent Royale truly sits at the heart of it all. For travelers seeking a comprehensive Siesta Key experience, the location of Crescent Royale is undeniably a significant draw.
Crescent Royale Condominiums on Siesta Key: Amenities Galore for an Unforgettable Stay
In the heart of Siesta Key, where soft white sands merge with azure waters, the Crescent Royale Condominiums stand as a beacon of comfort and luxury. This residence not only promises prime real estate but also an array of amenities that make every stay memorable.
Property Amenities:
For every guest who chooses Crescent Royale Condominiums, an ensemble of complimentary property amenities awaits:
Proximity to the Beach: Positioned just steps away from the renowned Siesta Key beach, setting the stage for spontaneous beach trips and sun-soaked memories.

Swimming Pool: A large, heated pool awaits, open from dawn to dusk, perfect for both the early risers and the sunset swimmers.

Outdoor Recreation: With grills and picnic tables, guests can indulge in alfresco dining. The shuffleboard court adds a touch of nostalgic fun.

Indoor Entertainment: Challenge a companion to a game on the pool table or simply relax in the air-conditioned lounge.

Event Space: An accessible banquet room equipped with a kitchen ensures group events and celebrations have the perfect backdrop.

Fitness Center: For those who like to keep active, the fitness center is well-equipped to cater to workout routines.

Convenience: Every floor features laundry facilities near the elevator, and guests benefit from assigned covered parking.
Condo Amenities:
Crescent Royale Condominiums presents a variety of condos ranging from intimate one-bedroom units to spacious four-bedroom dwellings, perfect for weekly or monthly stays. These condos, in addition to offering sweeping views of the beach, come with:
Essentials: Beach towels, bath towels, and bed linens ensure comfort.

Kitchen Facilities: Fully-equipped kitchens, complete with dishes, silverware, and cookware.

Starter Supplies: Initial necessities like paper towels, dishwashing detergents, laundry packets, and bathroom essentials such as soaps and toilet paper are provided.
Crescent Royale Condominiums is more than just a place to stay. With its proximity to the charming Siesta Key Village and a plethora of amenities, it offers a blend of home-like comfort with vacation luxuries. Here, guests are treated to a stay where every need is anticipated and catered to, against the backdrop of stunning ocean views and the vibrancy of Siesta Key.
In Conclusion:
Crescent Royale Condominiums stands as a beacon of unmatched hospitality on Siesta Key. Its prime beachside location, paired with a plethora of top-tier amenities, offers guests a harmonious blend of relaxation and luxury. For anyone seeking the quintessence of a Siesta Key getaway, Crescent Royale is not just an option; it's the destination. This property epitomizes what it means to vacation in style, comfort, and serenity.