Embrace Tropical Luxury: El Presidente Siesta Key
Experience beachfront luxury at El Presidente Siesta Key. Unwind in stylish condos & explore breathtaking Florida's Gulf Coast!
RENTALS INFORMATION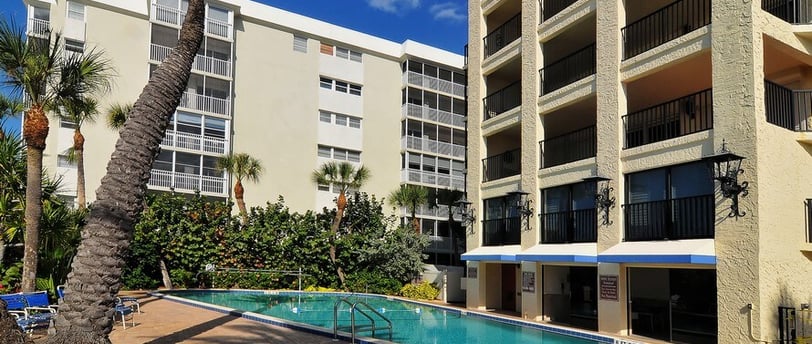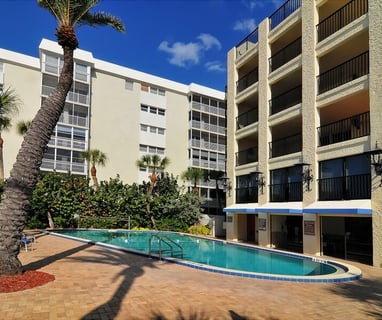 Immerse Yourself in Tropical Bliss at El Presidente Siesta Key, Florida's Premier Vacation Destination
Nestled on the mesmerizing island of Siesta Key along Florida's Gulf Coast, the El Presidente Condos paints an enticing picture of a tranquil yet luxurious beachfront getaway. Known for its unique blend of serenity and comfort, this holiday resort overlooks the pristine Crescent Beach, offering an immersive vacation experience like no other.
The first thing you'll notice about El Presidente Condos is its distinctive architecture. Blending modern sophistication with traditional Spanish flair, this resort echoes the lush beauty of its tropical surroundings. The complex houses a variety of condominium units, each tailored to different needs. Whether you seek a cozy one-bedroom suite for an intimate romantic escape or require a larger unit for a family trip, El Presidente Condos is well-equipped to cater to every guest.
Each condominium unit is a testament to comfort and luxury. Fully furnished kitchens complete with modern appliances, spacious living and dining areas that exude a homely charm, convenient en-suite laundry facilities, and private balconies offering breathtaking views of the coastal landscape, are just some of the features that set El Presidente Condos apart.
Experience Unsurpassed Luxury and Natural Beauty at El Presidente Siesta Key's Beachfront Condos
Your stay at El Presidente Condos extends beyond the confines of your luxurious suite. This resort is dedicated to offering you an unforgettable lifestyle experience that reflects the beauty and tranquility of Siesta Key. There's a wide range of amenities designed to elevate your vacation experience. Start your morning with a refreshing swim in the heated pool, or challenge your partner to a friendly match on the private tennis court. Enjoy a laid-back afternoon lounging poolside, soaking up the Florida sun, or experience the joy of a leisurely stroll along the sugar-white sands of Crescent Beach. The choice is yours!
Yet, the wonders of Siesta Key are not limited to the luxuries within El Presidente Condos. This barrier island is an adventurer's paradise. Dive into an array of water activities, including boating, fishing, and snorkeling. For golf enthusiasts, there are over 40 golf courses located a short drive away, each presenting unique challenges amidst picturesque views.
Beyond natural beauty and recreational opportunities, the island of Siesta Key is home to a lively town with an array of boutiques, shops, and gourmet dining options. The bustling local art scene is a delight for art lovers, while nature enthusiasts can explore Florida's diverse wildlife in nearby Oscar Scherer State Park and Myakka River State Park.
A key aspect of El Presidente Condos' appeal is its commitment to environmental preservation. The resort actively participates in beach cleanups to preserve the beautiful beaches of Siesta Key. Furthermore, it proudly supports Save Our Seabirds, a local organization focused on the rescue and rehabilitation of Florida's precious wildlife.
The dedication of El Presidente Condos to excellent guest service is truly commendable. The on-site management team is committed to ensuring that your stay is as comfortable and enjoyable as possible. From arranging local tours to addressing maintenance needs, the team works tirelessly to cater to every guest's needs.
In conclusion, the appeal of El Presidente Condos lies in the sum of its parts. It's not just the luxurious suites, the range of amenities, or the excellent guest services, but also the welcoming ambiance, the easy access to the beach, and the proximity to local attractions that make this place special. Whether you're planning a family holiday, a romantic getaway, or a long-term stay, El Presidente Condos promises an unforgettable experience. It's more than just a beachfront property; it's a paradise that offers you a taste of the finest coastal living. Book a stay at El Presidente Condos and immerse yourself in the best of Siesta Key.
This coastal retreat is ready to welcome you. So why wait? Plan your stay at El Presidente Condos and experience first-hand the captivating allure of beachfront luxury and homely comfort. With El Presidente Condos, you're not just booking a vacation – you're booking a memory that will last a lifetime.