Horizons West Siesta Key
Experience unparalleled luxury at Horizons West, where pristine beaches meet modern comforts.
RENTALS INFORMATION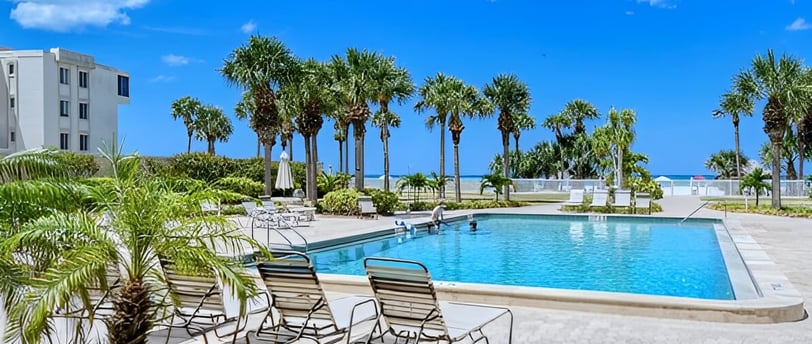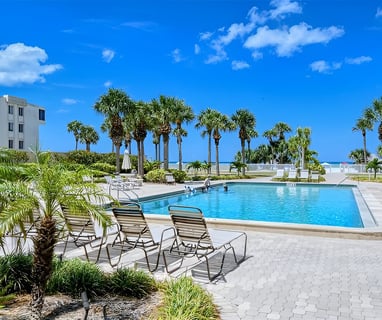 Nestled amidst the sun-kissed beaches of Florida, Horizons West on Siesta Key emerges as an embodiment of luxury, relaxation, and natural beauty. For those who venture to this corner of paradise, the property promises an experience that transcends the ordinary, combining the allure of Crescent Beach with the comforts of modern living. Here's a journey through what makes Horizons West a sought-after destination:
Discovering Horizons West on Siesta Key
A Beach Like No Other
Crescent Beach, renowned globally for its shimmering sands and azure waters, serves as the backdrop for Horizons West. But what sets it apart is its exclusivity. The property boasts a private section of this iconic beach, offering its guests an oasis away from the bustling tourist spots. With ready-to-use beach chairs and lounges, visitors can bask under the sun's golden glow. And for those moments when they seek respite from its rays, the property's cabanas stand ready to provide shade.
Water Wonders and Relaxation
Beyond the beach, Horizons West has ensured that its guests have ample avenues for relaxation. Two pristine swimming pools beckon, offering an alternative to the sea's salty embrace. Post a day of exploration or shopping, the Jacuzzi serves as a sanctuary, inviting guests to unwind and rejuvenate.
Views to Remember
The high-rise at Horizons West isn't just an architectural marvel; it's a vantage point. Those lucky enough to stay within its confines are treated to panoramic views of the Gulf of Mexico. As the sun dips below the horizon, painting the sky in myriad hues, residents are offered a front-row seat to nature's spectacular show.
Accommodations That Speak Luxury
Within the high-rise, guests have a plethora of choices. Depending on their needs, they can opt for one, two, or three-bedroom condos, each echoing a blend of elegance and comfort. For those who desire a closer connection to nature, the two-bedroom villas are an ideal choice. Stretching from the Intracoastal Waterway to the beach, these villas offer a seamless meld of land and sea. Let's explore what makes Horizons West an epitome of vacation perfection:
1. Private Beach Access
An Exclusive Slice of Paradise: Horizons West boasts its own private section of the famed Crescent Beach, allowing guests to bask in serenity, far from the madding crowd.

Ready-to-Use Beach Furniture: Guests are pampered with comfortable beach chairs and lounges, eliminating the hassle of carrying beach equipment.

Shaded Beach Cabanas: When the Floridian sun becomes a bit too passionate, the property's beach cabanas stand ready to offer a cooling embrace.
2. Pools & Jacuzzi
Dual Aquatic Delights: Horizons West houses two shimmering pools, ensuring guests can indulge in aquatic pleasures whenever the mood strikes.

A Jacuzzi Retreat: After an adventurous day, the property's Jacuzzi promises a therapeutic escape, where guests can let their worries melt away.
3. Panoramic Gulf Views
Elevated Aesthetics from the High-rise: The Horizons West high-rise gifts its residents with unparalleled vistas of the Gulf of Mexico, where nature puts on a daily show during sunset.
4. Accommodations Par Excellence
Diverse Apartment Choices: Depending on their needs, guests can opt for one, two, or three-bedroom apartments in the high-rise, each epitomizing comfort and modernity.

Villa Elegance: For those seeking a touch more privacy and luxury, the property's two-bedroom villas stretch gracefully from the Intracoastal Waterway to the beach, offering a unique blend of waterfront living.
5. Contemporary Comforts
Sheltered Parking: Horizons West ensures that guests' vehicles remain shielded from the elements with its covered parking facilities.

Optimal Climate Control: Regardless of Florida's whimsical weather, all units at Horizons West come equipped with central air-conditioning and heating, promising year-round comfort.
6. Uncompromised Security
A Fortified Sanctuary: As a gated community, Horizons West prioritizes its guests' safety and privacy.

Round-the-Clock Vigilance: With 24-hour video surveillance, the property ensures an environment where security is paramount.

Dedicated Security Personnel: Trained security staff remain ever-vigilant, ensuring guests can relax with peace of mind.
In Summary: For those who have had the privilege of staying at Horizons West on Siesta Key, it's clear that it's more than just a property; it's a curated experience. With amenities that cater to every conceivable need and desire, it offers a retreat where luxury and comfort reign supreme. Horizons West truly stands as a beacon for what vacation dreams are made of.