Midnight Cove Siesta Key: Your Dream Vacation Awaits
Escape to the tranquil beauty of Midnight Cove Siesta Key. Enjoy a luxurious vacation rental with stunning amenities and a serene beachside setting.
RENTALS INFORMATION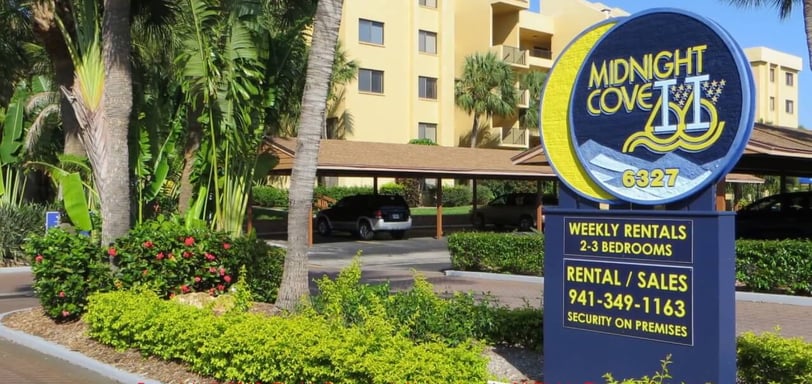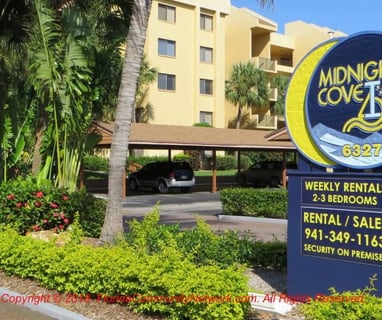 Siesta Key, an idyllic barrier island off the coast of Sarasota, Florida, is renowned for its stunning white-sand beaches, serene turquoise waters, and laid-back atmosphere. Nestled within this picturesque setting is Midnight Cove Siesta Key, a vacation rental community that epitomizes relaxation and luxury, making it the perfect place to stay during your Siesta Key getaway.
Introducing Midnight Cove: A Gated Community of Comfort
Midnight Cove boasts an impressive collection of over 80 condominiums and townhouses within its gated premises. Ranging from two to three bedrooms, these elegantly appointed units can comfortably accommodate up to eight guests. Step inside and discover a haven of comfort and convenience, with amenities such as fully equipped kitchens, in-unit washer and dryer, cable TV, and Wi-Fi. Each unit also features balconies or patios, allowing you to savor the island's gentle breezes and immerse yourself in the tranquil ambiance. For those seeking an extra touch of luxury, select units even offer private pools for a refreshing dip at your leisure.
Location: Steps Away from Paradise
Midnight Cove enjoys a prime location just steps away from the beach, granting residents direct access to the stunning shoreline. With its own private beach access, you can easily stroll from your doorstep onto the soft, white sands that have made Siesta Key famous. Midnight Cove's beach is widely regarded as one of the best on the island, known for its powdery sands and mesmerizing turquoise waters, inviting you to bask in the beauty of nature.
Unparalleled Amenities for Unforgettable Experiences:
As a guest of Midnight Cove, you'll have access to an array of exceptional amenities designed to elevate your stay. These include not one, but two sparkling swimming pools, allowing you to cool off and soak up the sun's rays. Two tennis courts are available for those seeking an active getaway, while a fitness center is on hand for those looking to stay in shape. Families traveling with children will appreciate the playground, ensuring little ones are entertained throughout their stay. The clubhouse provides a welcoming space to gather with fellow guests, and the BBQ grills offer the perfect setting for a delightful outdoor meal. Stay connected with loved ones or share your vacation highlights on social media with the convenience of free Wi-Fi throughout the community.
Endless Activities to Delight Every Guest
At Midnight Cove Siesta Key, the possibilities for adventure and relaxation are endless. Spend your days swimming in the crystal-clear waters, basking in the warmth of the sun, or trying your hand at surfing or fishing. Take advantage of the proximity to the bay and enjoy boating excursions or indulge in retail therapy at nearby shops. As the sun sets, savor the vibrant dining options, experience the lively nightlife, or simply unwind on your private balcony, taking in the serenity that surrounds you.
Convenient Access and Booking
Midnight Cove's prime location allows for easy navigation around Siesta Key. Just a short walk from the main road, you'll find yourself within reach of a variety of restaurants, shops, and bars. To secure your stay, it is advisable to book early, as Midnight Cove is a highly sought-after vacation rental community. Reservations can be made through the Midnight Cove website or via trusted third-party vacation rental websites.
In Conclusion: Midnight Cove stands as the epitome of a luxurious and relaxing vacation experience on Siesta Key. Its wide range of amenities, enviable location steps away from the beach, and proximity to diverse activities make it an ideal choice for travelers seeking a serene and unforgettable retreat. Whether you're vacationing with your family, your significant other, or a group of friends, Midnight Cove caters to your needs and offers an exceptional stay.
Additional Thoughts on Midnight Cove:
Midnight Cove welcomes families, couples, and groups, providing an inclusive environment for all guests. Its prime location strikes the perfect balance between accessibility to the island's attractions and a peaceful, secluded setting. The amenities provided ensure there is something to suit every preference, from swimming pools and tennis courts to a welcoming clubhouse. The staff at Midnight Cove is renowned for their friendliness and attentiveness, guaranteeing a memorable and enjoyable stay. If you're searching for a luxurious and rejuvenating vacation experience on Siesta Key, Midnight Cove comes highly recommended. Embark on an unforgettable journey and discover the true essence of island living.
Tucked away on the sun-kissed shores of Siesta Key, Florida, Midnight Cove is a hidden gem offering a plethora of upscale amenities that promises to elevate the vacation experience of its guests. Whether you're an adventurer, a solitude seeker, or a family on a getaway, this destination has something for everyone. In this article, we delve deep into the myriad of amenities and luxuries that await you at Midnight Cove.
A Few of Midnight Cove's Amenities:
1. Breathtaking Beachfront
Midnight Cove boasts of a pristine private beachfront. The soft, quartz sand of Siesta Key is famously known as the world's finest and whitest sand, and it stretches as a luxurious carpet right at the doorstep of Midnight Cove. Guests can enjoy long walks, beach volleyball, or simply bask in the sun.
2. Swimming Pools
There's no better way to beat the Florida heat than to take a refreshing dip. Midnight Cove offers two heated swimming pools. Surrounded by lush tropical landscaping, the pools provide a serene environment to relax and unwind.
3. Tennis Courts
For those who love to stay active, the tennis courts at Midnight Cove are a dream come true. Whether you're a beginner or a seasoned player, the courts are well-maintained and open for all guests.
4. Fitness Center
Stay in shape even while on vacation! The state-of-the-art fitness center is equipped with modern machines and free weights to cater to all your workout needs.
5. Boating and Water Sports
With its close proximity to the Gulf of Mexico, Midnight Cove offers boat docks for those who want to explore the waters. Additionally, guests can indulge in a range of water sports, from jet skiing to paddleboarding.
6. Barbecue Areas
What's a beach vacation without a barbecue? Designated barbecue areas with grills are spread across the property, allowing guests to enjoy a delightful meal with a view.
7. Wi-Fi and Tech Amenities
In today's digital age, staying connected is paramount. Midnight Cove ensures that guests have access to high-speed Wi-Fi. Furthermore, many units come with tech amenities like flat-screen TVs and DVD players.
8. Secure Environment
Safety is a top priority at Midnight Cove. The property is gated, ensuring restricted access, and there's 24-hour security to provide peace of mind to all guests.
9. Local Attractions
While the amenities within the property are plentiful, its location also places guests close to various attractions in Siesta Key. From restaurants and shopping areas to nature parks and cultural hubs, there's always something to do.
Circus Sarasota

Crowley Museum and Nature Center

Historic Spanish Point

John and Mable Ringling Museum of Art

Marie Selby Botanical Gardens

Mote Marine Laboratory

Myakka River State Park

Sarasota Jungle Gardens

Fishing Gear, Charters, Boat and Jet Ski Rentals, Parasailing…CB's Saltwater Outfitters

South Florida Museum, Parker Manatee Aquarium and Bishop Planetarium

Tree Umph! (adventure courses)

Sky Zone Trampoline Park
Midnight Cove Siesta Key offers a harmonious blend of natural beauty and modern amenities. Its commitment to luxury, comfort, and exemplary services make it one of the top destinations in Siesta Key. Whether you're planning a short trip or an extended stay, the amenities at Midnight Cove promise an unforgettable experience.