Crystal Sands Siesta Key
Experience luxury at Crystal Sands Siesta Key. Beachfront rentals, nearby attractions, and top-notch service await you.
RENTALS INFORMATION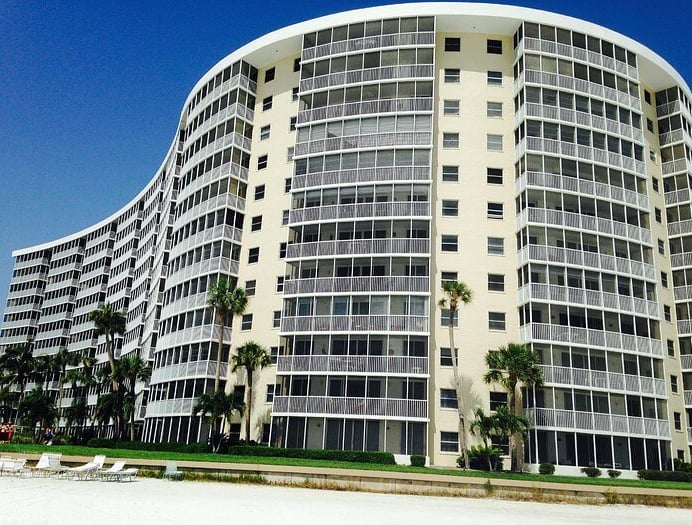 Situated on the award-winning Crescent Beach in Siesta Key, Crystal Sands offers an unparalleled vacation experience. This beachfront paradise gives guests a front-row seat to Siesta Key's world-renowned turquoise waters and white sand beaches. The beachfront tower condos and beach access villas at Crystal Sands Siesta Key offer luxury and convenience, being just steps away from the mesmerizing Gulf Front and the pristine Crescent Beach.
Crystal Sands: Crafting Accommodations for Peak Comfort
The accommodations at Crystal Sands are as diverse as they are luxurious. Most are 2-bedroom, 2-bathroom condos, providing ample space and privacy for families or groups. For those seeking an even more spacious option, a 4-bedroom unit is also available. Each apartment is thoughtfully designed, blending comfort and style to create a luxurious and homely environment, ensuring that guests have an unforgettable stay.
A Prime Location for an Unforgettable Vacation
A key highlight of Crystal Sands Siesta Key is its exceptional location. Just 2 miles from the lively Siesta Key Village, guests have access to a wide array of shops, restaurants, bars, and coffee shops, ensuring everything they need is within reach. This vibrant locale offers a unique blend of the serene beach life and the exciting bustle of city life.
For those wanting to explore the local area, there's plenty to discover within walking distance. Fine dining restaurants for gourmet experiences, convenient stores for quick supplies, and water sports rentals for adrenaline-fueled fun are just around the corner.
The Best of Sarasota at Your Doorstep
Moving beyond the beach, Crystal Sands' location offers easy access to downtown Sarasota, a charming city that boasts quaint shopping villages, perfect for a leisurely day out. Food enthusiasts will be spoilt for choice with a range of fine dining experiences that cater to every culinary preference.
Cultural and educational experiences are also close at hand. The John & Mable Ringling Museum of Art is a veritable haven for art lovers. Families visiting Crystal Sands will also find area attractions such as the Mote Marine Laboratory and Aquarium a fascinating and entertaining outing. And for those seeking a serene escape within nature, the beautiful Marie Selby Botanical Gardens offers a tranquil retreat.
Luxurious Facilities for a Relaxing Stay
Among the many features that set Crystal Sands apart is its distinctive architecture. With 11 stacks of condos soaring 12 stories high, each of the 131 apartments offers guests a stunning waterfront view of the beach and the Gulf of Mexico, making every moment spent there a visual treat.
Crystal Sands has continually upgraded its tower units to provide a comfortable and luxurious living environment. Features such as open-air hallways, new metal railings, and newly constructed lanais add to the charm and luxury. For guests who prefer staying closer to the ground, ground-floor villa units are available, offering the same level of comfort and luxury.
Recreational facilities at Crystal Sands include two swimming pools, surrounded by new lighting and fencing, providing a perfect ambiance for a refreshing swim. For those who love the beach, Crystal Sands has its own private beach, Crescent Beach, where guests can relax, soak up the sun, and enjoy the serene surroundings.
A Commitment to Excellent Service
At Crystal Sands Siesta Key, the commitment to providing an exceptional stay extends beyond just accommodations and facilities. An efficient rental manager oversees all the properties in the rental program, ensuring that every guest's needs are taken care of, resulting in a truly memorable Florida vacation. With an office operating six days a week and a dedicated number for after-hours emergencies, guests can rest assured that help is always at hand.
Flexible Rental Policy for a Hassle-free Vacation
Crystal Sands' rental policy is designed with guest convenience in mind. From October through May, a 2-week minimum stay applies for all rental units. However, from June through September, the villas require only a 1-week minimum stay, offering guests a more flexible booking policy during the summer months.
So, whether it's a romantic getaway or a family beach vacation that's on the cards, Crystal Sands on Siesta Key provides the perfect blend of relaxation, adventure, and luxury. It's not just a vacation rental; it's a home away from home, a personal paradise that leaves guests with memories to cherish.
In Conclusion: Crystal Sands Condominiums is more than just a vacation spot; it's a continuously improving community committed to providing the best guest experience possible. With its distinctive architecture, a wide variety of amenities, a prime location, and a dedicated and efficient staff, Crystal Sands stands as an excellent choice for a Siesta Key vacation. With well-maintained facilities and breathtaking views, Crystal Sands Condominiums rightly deserves a full five-star rating. Booking a Crescent Beach vacation rental is the first step towards an unforgettable Siesta Key vacation!